Michigan's Drunk Driving Laws
Michigan Drunk Driving Defense Attorneys
Michigan Drunk Driving Procedure
Michigan's Courts Enforcing Drunk Driving Laws
Other Resources
Attorney William J. Maze
Printer friendly page of this article.
William J. Maze is a 1996 graduate of Wayne State University Law School. He received his undergraduate degree from The Citadel, The Military College of South Carolina in 1992.
Mr. Maze has been defending drunk driving cases for nine years with a high percentage of dismissals and plea agreements to non-alcohol related offenses.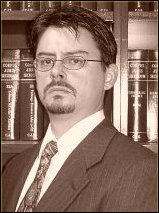 Telephone: (734) 941-8800
Toll Free: (888) 941-1122

24 Hour Cellular: (734) 740-1900
Facsimile: (734) 941-8822

Wayne County Office
37211 Goddard Road
Romulus, Michigan 48174

Oakland County Office
30700 Telegraph Road, Suite 4646
Bingham Farms, Michigan 48025

E-mail: William J. Maze